Okay FMA fans out there, or non-fans alike, I am hoping that you will be able to help settle a little arguement that my friend and I are having over the color of Edward Elric's hair - yes obviously it is a golden blonde for most of the series however, my friend seems to think that when Edward dyes his hair in Episode 45 that it is black. I however insist that it is green - a very very dark green - but green none-the-less.
That isn't a terribly great example - I'd post a better screencap up if I could take screencaps, however that shall have to do for now - just refer back to ep 45 if you can remember.
Edit
Okay I have better screencap now - look at that and tell me it's not green XP, I haven't altered it in any way except to resize it.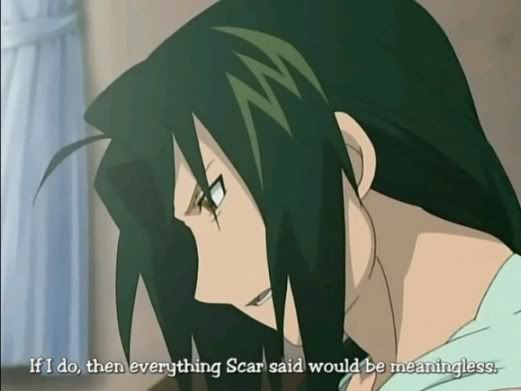 Mustang has black hair, Lyrra has black hair, but I'm sorry when Ed dyes his hair it is so green - and I'm not just talking about the shine.
Let me know what you think! Hehe but I think we all know it's Green! :D