I'm not sure if any of you have heard this yet, but I am sure this may be of intertest to some who likes yaoi. This is her first YAOI manga is called Sakura Gari, This really caught me by surpize @_@ and of course im super happy being a yaoi fangirl myself XD its so cute XP
note:
Yuu Watase's newest manga is a yaoi one. I've always thought she could make a really good yaoi mangaka, but never thought she'd actually do it.
As those who dont know who Yuu Watase is, she is the very popular mangaka of shoujo manga, some of her works are: Fushigi Y?gi, Ceres, Alice 19th, Absolute Boyfriend.... ect and other ones.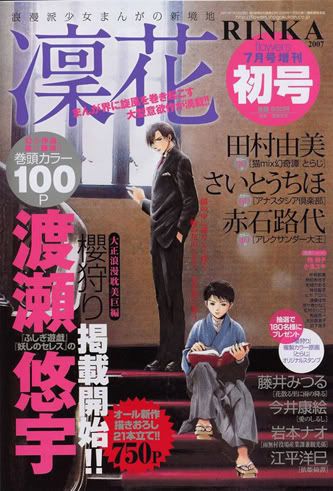 If you would like download the first chapt here in english:
Mangaka: Watase Yuu
Team: Watase's Sorai ( http://www.yuuwatase.org/index.shtml ) <--- go here to download
Summary: Sakura Gari is Gorgeous Taishou Era romantic story, ten years in the making. It centers around the 16 year old Tagami Masataka as he is aiming to find his place in life. While attempting to start prep school as a rounin he encounters Saiki Souma, the son of a distinguished noble of the Saiki Koushyaku family and becomes part of the Saiki household .
It seems as though this will be the story of Tagami's life, taking us through both him growing up physically and emotionally... (from Watase's Sorai)
Chap 1 --> [link removed]
(warning it is YAOI)