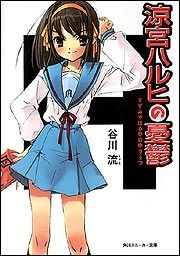 Yen Press told ICv2 that they've picked up the first four volumes of the currently running (vol. 5 was just released in Japan) Haruhi manga. I'm sure they hope these first four volumes do as well as they did in Japan; they collectively sold over a million and a half copies.
The first volume hits shelves in October, and will include both full color and black-and-white illustrations. Subsequent volumes will be released every four months. In other words, take your time with each volume.
Coming from Yen Press, you won't have to worry about censorship. Yen Press Co-Publishing Director Kurt Hassler told ICv2: "There are a few ecchi bits--it's not necessarily overtly sexual in nature, but Haruhi is quite unrestrained when she wants something, I don't know if you can describe it as ecchi so much as a blatant disregard for anyone else's personal boundaries."
If you'll be attending either San Diego or New York Comic-Con, look for Yen Press there, as they'll be promoting their new baby with posters and giveaways.
The Light Novels license has been acquired as well.
The Publishers Weekly trade periodical reports that Little, Brown Books for Young Readers will publish Nagaru Tanigawa's Haruhi Suzumiya light novels in English starting in April of 2009. The Melancholy of Haruhi Suzumiya is the first of the nine volumes, and the main inspiration for anime series of the same name. Little, Brown Books acquired the series from Kadokawa Shoten in a joint venture with Yen Press, who also revealed today that it will be publishing the manga version of the novels in North America. (Both companies are imprints of Hachette Book Group USA.) The first novel volume will be released in a US$8.99 trade paperback version and a US$16.99 hardcover version. 4.5 million novel copies and 1.5 million manga copies have been sold in Japan.

best news i've read today so far, Yen press is just full of win.
I can't say much about the manga, though i am excited about the light novels.