People of Depths of Sound, here me!
It is not every day that an amazingly awesome contest comes to an equally amazingly awesome conclusion. Truly, it is amazing!
Amber already made her announcement over at CL, and did a wonderful job in saying how... proud we are as parents. ;___; Love ya guys!
Everyone who participated showed an amazing amount of skill and execution in sticking with the theme of the contest, while still producing top-notch wallpapers.
But three winners have been chosen! All of the prize banners were vectored and painted by the mother of this here contest.
First Place goes to our lovely Erdbeermilch! Bravo! *gives standing ovation*
http://i209.photobucket.com/albums/bb99/sailorchiron/greenteavector.jpg
Code:

	<a href="http://s209.photobucket.com/albums/bb99/sailorchiron/?action=view&current=greenteavector.jpg"
	target="_blank"><img
	src="http://i209.photobucket.com/albums/bb99/sailorchiron/greenteavector.jpg" border="0"
	alt="Photobucket"></a>
Second Place goes to the enchanting MapleRose! *cries while handing over a bouquet*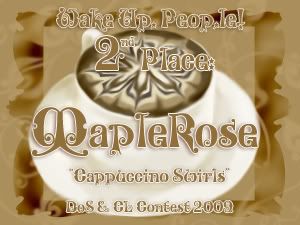 http://i209.photobucket.com/albums/bb99/sailorchiron/cappuccinovector.jpg
Code:

	<a
	href="http://s209.photobucket.com/albums/bb99/sailorchiron/?action=view&current=cappuccinovector.jpg"
	target="_blank"><img
	src="http://i209.photobucket.com/albums/bb99/sailorchiron/cappuccinovector.jpg" border="0"
	alt="Photobucket"></a>
And Third Place goes to ArtificialRaindrop! Go you! *kisses each cheek and throws confetti*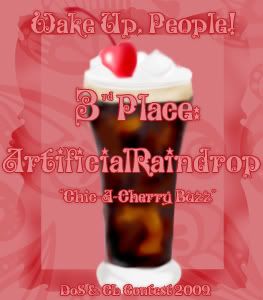 http://i209.photobucket.com/albums/bb99/sailorchiron/cherrycokevector.jpg
Code:

	<a
	href="http://s209.photobucket.com/albums/bb99/sailorchiron/?action=view&current=cherrycokevector.jpg"
	target="_blank"><img
	src="http://i209.photobucket.com/albums/bb99/sailorchiron/cherrycokevector.jpg" border="0"
	alt="Photobucket"></a>
And a hearty congrats to everyone who entered! Amber and I feel like working together with future contests, so keep your ears, eyes, and telekinetic minds open!~