This package contains two applications. The Minitokyo Image Sorter and the Multiple Directory Image Viewer. This packaged solution allows you to sort your images to stay organized and improve thumbnail loading time.
Minitokyo Image Sorter
This small utility sorts your images based on the current Minitokyo naming convention:
Minitokyo.[Anime Title].[Image/Submission Type]_[Numbers] - Ex.Minitokyo.Bleach.Wallpapers_399131
This can be used on any folder containing images from Minitokyo (even with sub-directories). Other images from other sites will also be sorted however they will be placed under the "Other Images" folder. In this version, you can sort by:
-Anime Title
-Image/Submission Type
-Anime Title then Image/Submission Type
-Image/Submission Type then Anime Title
Multiple Directory Image Viewer
This is an extra utility used by the Image Sorter. The Multiple Directory Image Viewer allows you to view all the images under one root directory. It is provided to allow you to view your sorted images. This program can also be executed without the Minitokyo Image Sorter for custom viewing. You must use your keyboards arrow keys to navigate.
Screenshots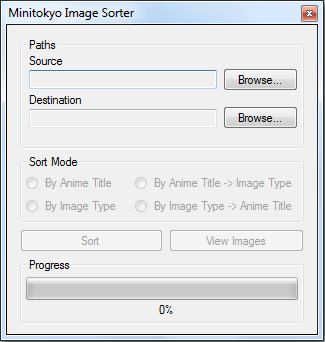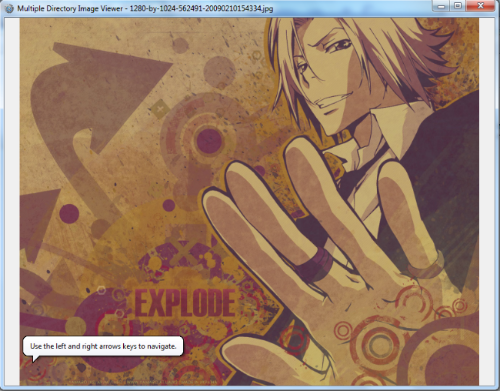 Requirements
-Windows
-.NET Framework 3.5
Download
Version 1- MediaFire - 539.41 KB
Version 2 - MediaFire - 505.45 KB
Feedback
I am willing to accept any constructive feedback you may have. Especially any bugs or exceptions you may encounter while using these two programs. I will also accept new sorting methods from users that want a specific sort. Just provide the sorting details with images if possible so I get a sense of what you want.
Thanks,
S0ulDrag0n
I'd like to thank Sheqel and fireflywishes.
Sheqel - Thanks for creating Minitokyo and giving me permission to post this.
fireflywishes - Thanks for getting a hold of Sheqel for me.
Known Bugs
-Deleted Submission Type not added
Fixed Bugs
-IOException on overwrite when destination is a sub-directory of the source
-Percentage Display Not Working
ChangeLog
-Check other posts or read the included read me