It's back again ;) Thank you to Monu-chan for the theme suggestion for Round 78.
This time around, contests will be held on a biweekly basis because of my availability. (But that may change in the near future!)
Here are the owed award banners from previous rounds:
76: TheCompiler & hitsu-chan
75: TheCompiler
74: TheCompiler
73: TheCompiler
Hall of Fame and other group page content will be updated tomorrow afternoon.
-------------------------------------------
R O U N D # 7 8
Theme: Summer
Challenge: Make a signature based on summer themes (ex. beach, theme parks, sunny days, etc.).
S C H E D U L E
NOW to July 31: Submit your signatures.
July 31 to August 3: Voting.
Sunday Night: New Challenge posted.
Friday submissions and Sunday voting will be CLOSED at 10 PM (North America EST - Eastern Standard Time Zone) or later. Be aware that if there isn't a sufficient amount of entries the sig challenge will be extended for another week.
R U L E S
1. One submission per participant.
2. Always follow the theme given or your submission wil lbe disqualified.
3. Post your entry in this announcement.
4. Submission format: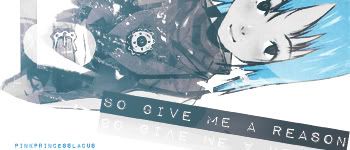 Direct Link: http://i14.photobucket.com/albums/a342/PinkPrincessLacus/Signatures/Intensify.jpg
5. Minimum size: 350x150 pixels.
6. Maximum size: 500x150 pixels.
A W A R D
The winner(s) will receive a award banner, bragging rights, and a place on the group's "Hall of Fame."